About the Chef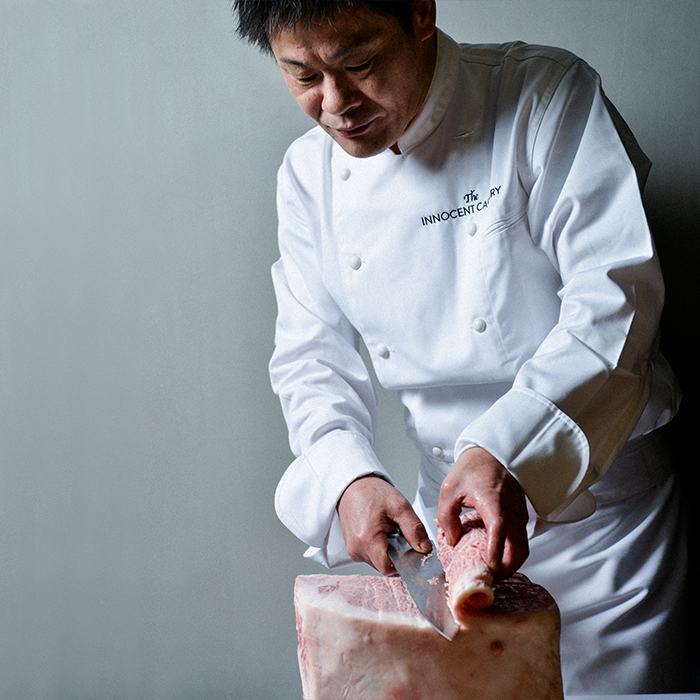 Born in 1965, Kenichiro Okada opened restaurants in Hong Kong in 2000, Taipei in 2001, New York in 2003, expanding to over 70 restaurants around the world. He was the first person in Japan to provide dry aged "Porter House" beef in 2003. He was awarded the Nikkei Restaurant Menu Grand Prix award in 1995, and in 2017 he was awarded the Anti Additive Award.

We are proud to use only the very best Japanese ingredients and Wagyu. Food connoisseurs from around the world invariably want to compare the tastes of Kobe and Matsuzaka beef. At the Innocent Carvery we have granted their wish and made this a reality. The three major brands of beef in Japan are "Kobe beef", "Matsuzaka beef", and "Omi beef." However, there are many more, with Japan having over 120 different types of Wagyu. Out of all these, only the best are selected and provided to you on the day of your meal. We welcome you to enjoy your time at the restaurant and relish the sublime flavors of Japanese Wagyu.

Chef Kenichiro Okada
About the Menu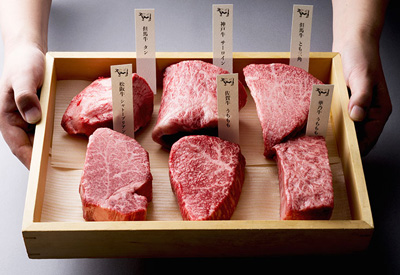 At The Innocent Carvery, you can choose from a wide assortment of various kinds of Japanese Wagyu and compare different brands, different cuts of beef, and enjoy the different decadent tastes of Japanese Wagyu. In order to bring out the best taste of each of the carefully selected ingredients, we do not adhere to one cookie-cutter way of cooking, and each dish is specifically prepared to the enhance innate flavors. A wide selection different drinks such as drinks, beer, shochu and sour drinks is available, in addition to a wide variety of whiskey, and wine.
The ambiance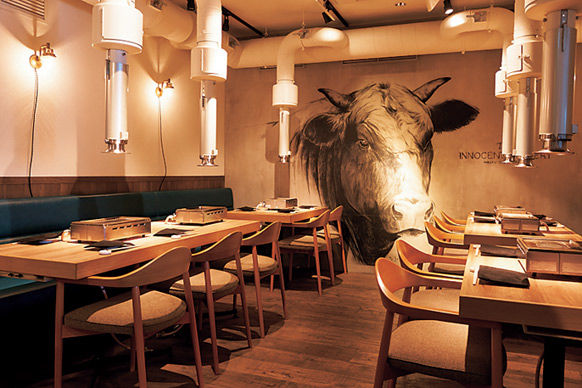 The Innocent Carvery isn't a Yakiniku-ya/Japanese barbeque restaurant, nor is it a Teppanyaki style steak house. The Innocent Carvery is a European-style cozy and comforting restaurant offering customers the opportunity to luxuriously enjoy Japanese Wagyu. The Innocent Carvery gets its name from the concept that a carvery, or place where meat is freshly sliced for you, have ingredients that are pure, natural and unadulterated. The rank of beef or the place that the beef comes from, are a few standards or criterion, however without just relying on specific brands, our specialists expertly and carefully select the best wagyu to provide you on the day of your meal. Slowly savor the umami and enjoy each sumptuous bite of Japanese Wagyu at The Innocent Carvery.